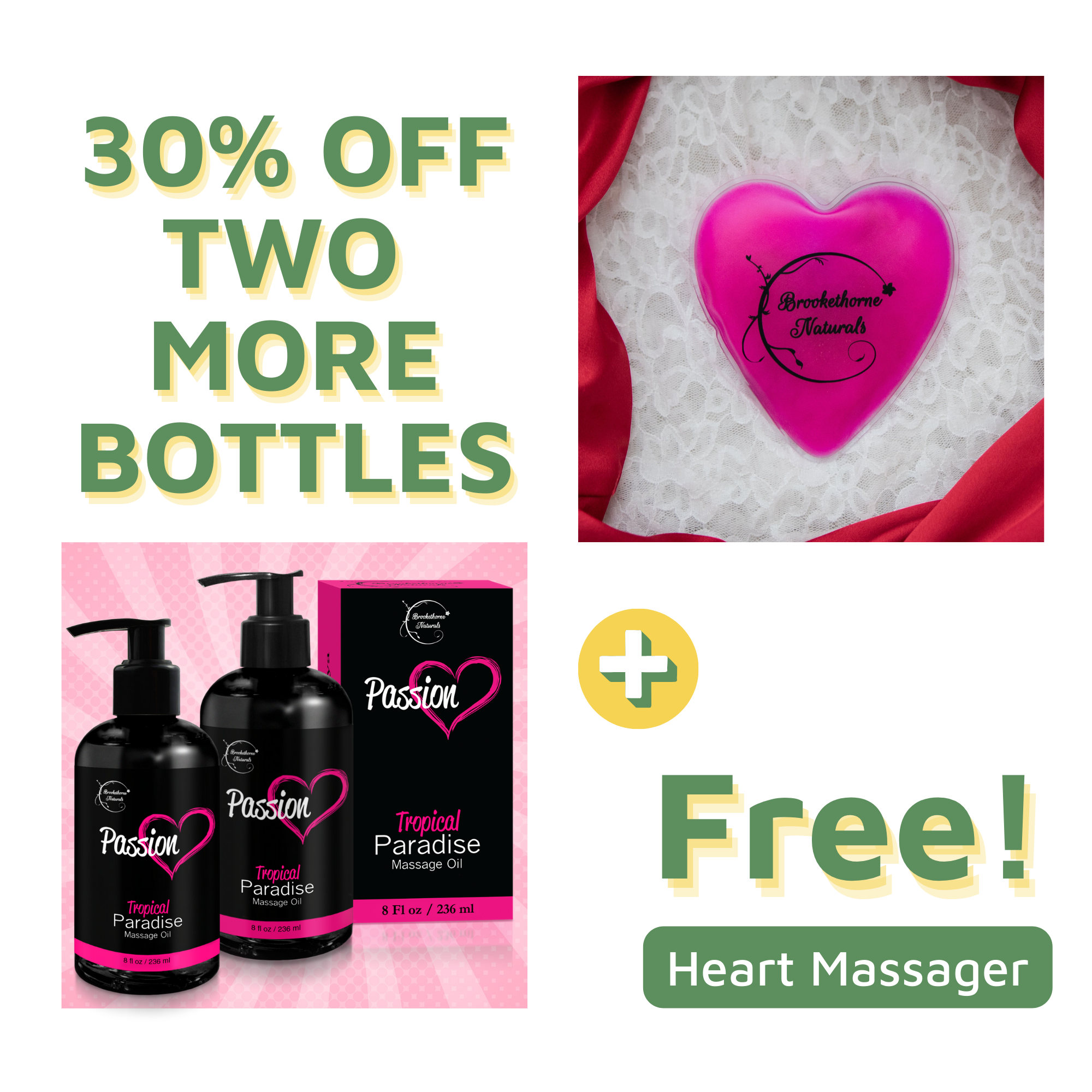 2x Passion Massage Oils + Free Heart Massager
Passion Tropical Massage Oil & Happy Heart Warming Massager
About Passion Massage Oil
Passion Sensual Massage Oil is perfect for intimate moments. Let your hands do the talking and give your partner a mind-blowing massage that will leave them wanting more! Passion Couples Massage Oil is the perfect consistency for romantic massage and will prevent skin to skin friction during full body massage. This all natural massage oil conditions the skin resulting in soft, healthy skin.
Ingredients:
Sweet Almond Oil, Grapeseed Oil, Jojoba Oil, Natural Tropical Botanical Essence.
About Happy Heart Warming Massager
The Happy Heart Warming Massager is the perfect pair for your sensual massage oil. Simply snap the metal disc to start the warming, the liquid will turn to crystals & heat up to 129° F. Use with your favorite Brookethorne Naturals massage oil for a full body massage that is sure to please.
To Re-use (or if your massager arrived hardened) boil the heart massager for 7-10 minutes, until crystals have completely disappeared. Make sure massager is completely submerged & not touching the sides of the pot. Carefully remove from heat & allow to cool before handling.
Read instructions prior to use.
Warning: DO NOT MICROWAVE. Do not boil for longer than 10 minutes. Never leave boiling pot unattended or without adequate water. Discard if massager developes a leak or is punctured. Do not use on broken or sensitive skin. Be sure to continuously move the massager while in contact with the skin to prevent burns or blistering. Do not use while sleeping & avoid putting excess pressure on the heat pack. Cease use if pain or irritation occurs. Keep out of reach of children.
Our Happiness Guarantee!
We've spent countless hours formulating & improving our products - we know you'll love them! We back all of our products with our 60 Day Money Back - Happiness Guarantee.