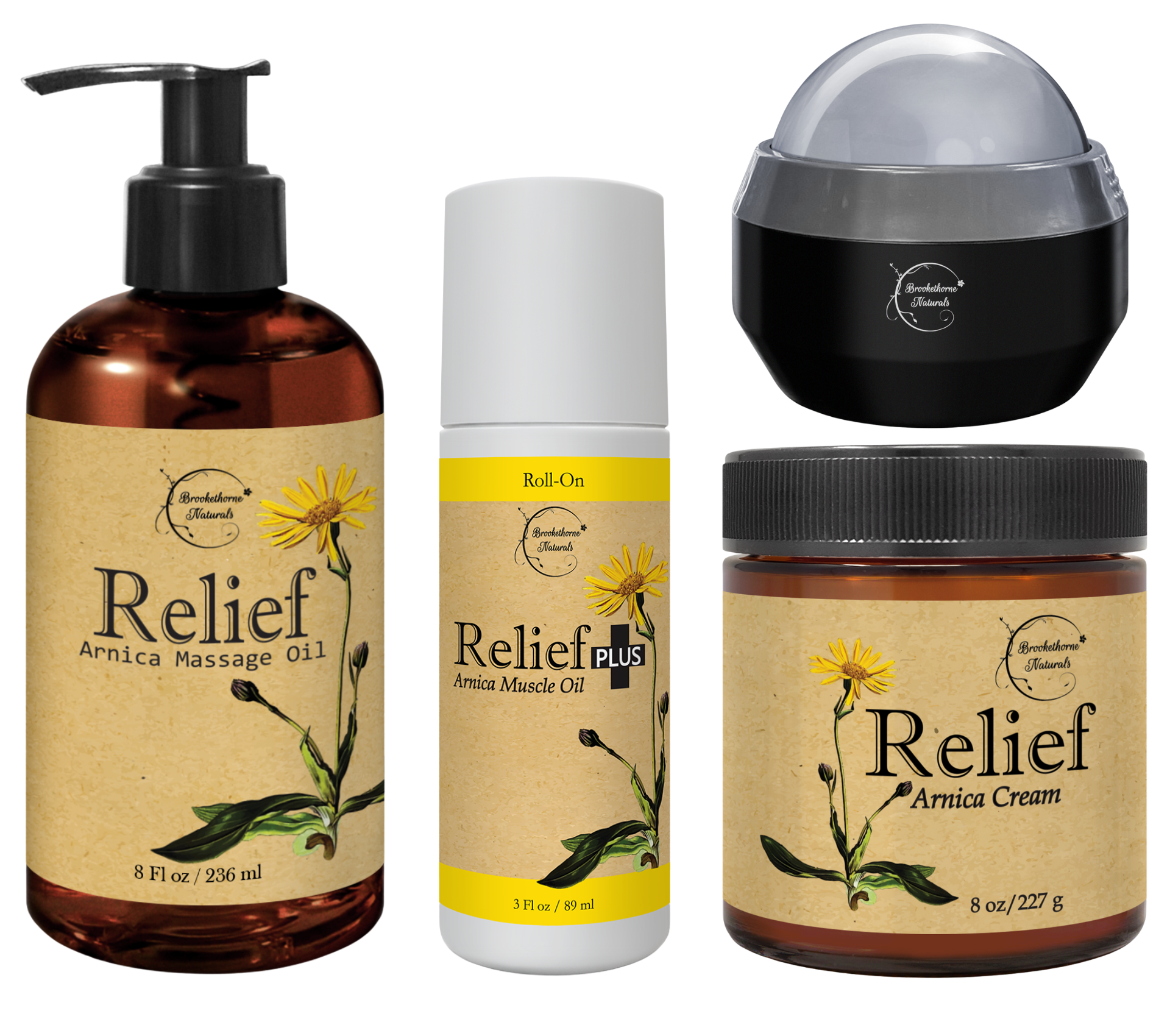 Ultimate Relief Bundle (40% OFF)
        
Achieve maximum relief! 
Includes:
🌻 Relief Arnica Massage Oil 8 fl oz
🌻 Relief Arnica Cream 8 oz
🌻 Relief PLUS Muscle Oil 3 fl oz
🌻 Cryoglide Cold Massage Ball
Our Natural Relief Arnica Massage Oil, Arnica Cream & Relief PLUS muscle oil can help to provide you with some much needed relief & relaxation. Arnica Montana has been used for many years as a natural remedy for muscle aches & pains, stiff joints, bruising & more. Our formulas are highly concentrated, allowing for maximum effectiveness. 
This trio is a great, natural remedy for those who are seeking relief from achy muscles, stiff joints & more!
This trio is ideal for:
The Active Lifestyle (Runners, Weightlifters, Cyclists & More…)
Massage (Great for Massage Therapy, Spas & home use)
Chiropractors/Chiropractic Massage
Joint Pain Relief & Muscle Soreness
Bruising & Swelling


What makes it work?
Arnica Montana
Nature's anti-inflammatory, great for sprains, strains, bruising, swelling & pain relief. Arnica is also a natural recovery aid for sore muscles & over exertion.
Eucalyptus
This powerful essential oil boasts anti-inflammatory as well as analgesic (acting to relieve pain) properties making it ideal for relief from tired, achy muscles & joint discomfort. Eucalyptus essential oil also helps to reenergize the mind & body while reducing stress.
Lemongrass
Helps to relieve pain in muscles and joints. Improves mental strength while providing a calming effect.

Rosemary
A natural pain reliever & stress reducer


Ingredients:
Relief Arnica Massage Oil
Sweet Almond Oil, Grapeseed Oil, Olive Oil, Jojoba Oil, Arnica Flower Extracts (Arnica Montana & Heterotheca Inuloides), Essential Oils of Eucalyptus, Lemongrass, Rosemary, Thyme & Black Pepper.
Relief Arnica Cream
Organic Aloe Barbadensis Leaf Juice, Deionized Water, Sweet Almond Oil, Organic Sunflower Seed Oil, Glyceryl Stearate, Vegtable Glycerin, Cetyl Alcohol, Ethylhexyl Palmitate, Isopropyl Palmitate, Organic Coconut Oil, Organic Cacao Seed Butter, Beeswax, Organic Jojoba Oil, Shea Butter, Safflower Seed Oil, Apricot Kernel Oil, Kukui Nut Oil, Organic Pumpkin Seed Oil, Avocado Oil, Wheat Germ Oil, Arnica Montana Flower Extract, Extra Virgin Olive Oil, Arnica Extract (Heterotheca inuloides), Eucalyptus globulus oil, Rosemary Oil, Thyme Oil, Lemongrass oil, Black Pepper Seed Oil Panthenol (Vitamin B5), Tocopheryl Acetate (Vitamin E), Camellia Organic Green Tea Extract, Organic Gotu Kola Extract, Horsetail Extract, Wild Geranium Extract, Organic Dandelion Extract, Potassium Stearate, Xanthan Gum, Alcohol, Stearic Acid, Sodium Carbomer, Phenoxyethanol, Ethylhexylglycerin.

Relief PLUS Muscle Oil 
Coconut Oil, Olive Oil, Arnica Extract (Heterotheca inuloides), Arnica Montana Extract, Menthol, Camphor Oil, Eucalyptus Oil, Rosemary Oil, Thyme Oil, Helichrysum Oil, Cypress Oil, Lemongrass Oil & Black Pepper Oil.

Our Happiness Guarantee!
We've spent countless hours formulating & improving our products - we know you'll love them! We back all of our products with our 60 Day Money Back - Happiness Guarantee.